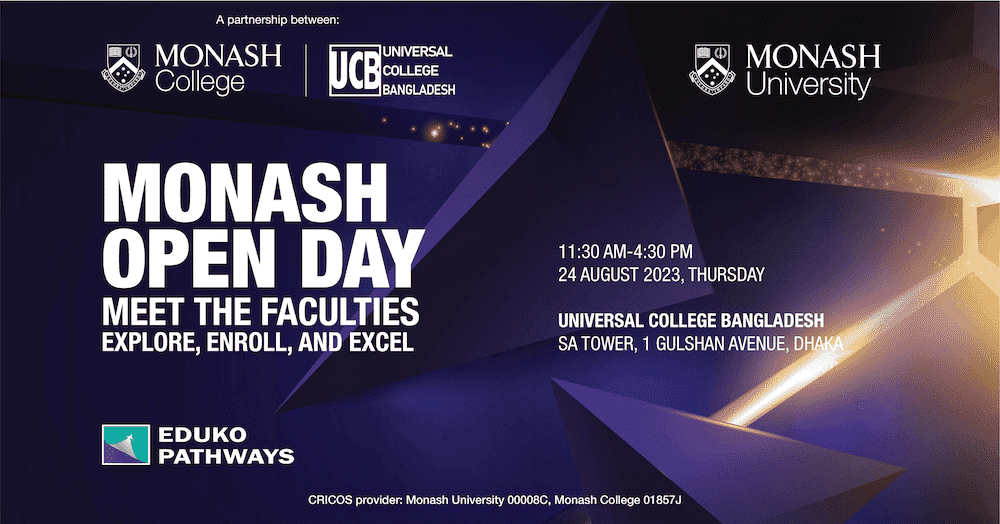 Monash Open Day: Meet The Faculties
191
191 people viewed this event.
Meet The Faculties you'll discover more about our courses, have the chance to explore the campus and chat with like-minded students.
Monash University is currently ranked #42 among the top universities globally in the QS World University Rankings 2024.
Date: Saturday 24 August
Time: 11:30 AM – 4:30 PM
If you're interested in
Monash University Foundation Year
Arts, Humanities and Social Sciences
Science
Medicine, Nursing and Health Sciences
Business
Information Technology
Engineering then our Monash Open Day is for you.
At Universal College Bangladesh, an exclusive partner of Monash College, Australia come to MEET THE FACULTIES: EXPLORE, ENROLL, AND EXCEL.
Arts, Humanities and Social Sciences
Bio: Rob Cioffi
Rob is a senior leader in the Faculty of Arts Humanities & Social Sciences with an extensive global career specializing in international education, marketing & public relations. Rob's career has seen him work in leadership roles in many regions including North America, Europe and Asia Pacific. Rob has spent the past 15 years at Monash University in a range of roles including the past 9 years with the Faculty of Arts, Humanities & Social Sciences.
Information Technology
Bio: Dermott McGrath
My name is Dermott, and I am from the Faculty of Information Technology at Monash University.
It is a great pleasure for me to visit Dhaka to meet you, and I am really excited to meet with you all and talk about your future studies in Australia.
I moved to Australia as an international student myself, from Ireland, back in 2007.
This allows me to recognize the journey that many of you now want to take, and I can't wait to share everything that I can to help you on this path.
Come chat with me to find out more about all things IT, including courses, scholarships, clubs and societies, job opportunities and so much more!
I am so excited to meet you all!
Medicine, Nursing and Health Sciences
Bio: Justin Burnell
Justin is the Student Recruitment Manager (International) for the Faculty of Medicine, Nursing and Health Sciences at Monash University, Australia. With 10 years of experience at Monash, he has worked in various recruitment and admissions roles nationally and internationally. Justin is also a Monash alumnus, having completed a Bachelor of Commerce (Marketing) and Bachelor of Arts (Media Communication) double degree.
Science
Bio: Guillermo Leguizamon (Guil)
Name: Guillermo Leguizamon (Guil)
Current role: Senior International Recruitment and Program Manager
Previous role: Senior Regional Manager for Latin America, the Middle East, Russia and Central Asia
Monash Alumni: Studied Master of Marketing at Monash University
Nationality: Colombian and Australian
Previous Roles: Senior Marketing Analyst – Monash University Marketing team, Senior Marketing Coordinator at Monash International.
Business
Bio: Patrick Soo
With almost 20 years of experience in the education industry, Patrick Soo has built a career in helping students pursue education in Australia. Specialising in International Student counselling, admissions, and wellbeing, Patrick excels in helping students find the perfect course for their career goals. As an alumnus of Monash University, Patrick is proud to represent the University and Monash Business School.
Facebook Event Page: https://www.facebook.com/events/301960015695214